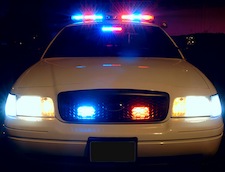 For the second time in the last two weeks, a Nyack parking enforcement aide was assaulted while ticketing cars parked illegally in the village. An incident on Dec 2 occurred in the early morning hours. The most recent assault happened on  Wed at 8:28a near the Nyack Ambulance Corp building on North Midland Ave.
The Orangetown Police Department charged Steven Stoltze, 47, of Tompkins Cove with disorderly conduct, harassment, clinging to a vehicle and obstructing governmental administration after the latest incident. On Wednesday morning, Stolze argued with a  parking enforcement aide after seeing a car, that did not belong to Stolze, being ticketed. When the parking employee attempted to disengage from the confrontation and drive away, Stolze jumped on the the hood of the car. Stoltze was then injured when the car lurched forward and struck a parked car trapping Stoltze's left foot between the cars. Stoltze, who has a history of disagreements with Nyack's parking enforcement staff, was issued an appearance ticket by the Orangetown Police Department.
Wednesday's incident follows an early morning assault which occurred two weeks ago on Main Street. At 4:22a on Sun Dec 2, a woman leaving one of Nyack's bars assaulted a parking enforcement employee, breaking their handheld ticket device.
If You See Something,
Cell Something
With parking harassment incidents increasing, officials say you can help by calling the Orangetown Police at 845-359-3700 if you see something that doesn't look right. And if you have a video camera on your phone, record what you see, too. Send along what you capture to info@NyackNewsAndViews.com and we'll publish it if appropriate.
A second person then attacked the parking officer knocking them to the ground. The parking authority agent was subsequently taken to Nyack Hospital, treated and released. Both assailants were charged by the OPD following the incident.
"When Village of Nyack Parking Enforcement Aides are confronted with violent reactions to the issuance of a simple parking ticket, they have been instructed to defuse the situation by walking away or leaving the area," said Nyack Mayor Jen White. When walking away doesn't end the confrontation, parking aides have been instructed to call the Orangetown Police. "Harassing or attempting to injure village employees who are simply doing their jobs is despicable, particularly when all you need to do to avoid getting a ticket is to simply obey the posted parking rules, " she said.
by