Today In Nyack: April 1, 2012
Sunday Snowstorm Wrecks Havoc
Nyack, April 1 For all who have complained about the Winter That Was Way Too Warm, what happened before has happened again. Schools are closed and people are staying home from work today as the village digs out from an unexpected early Spring snowstorm. The NorKeister closed the Nyack Airport, the Main Street Amusement Park and sidelined the planned activities of the new minor league soccer franchise, the Rockland County Kickbacks.
The municipal subway system was also closed and officials couldn't say when the popular Broadway Line connecting Upper Nyack and South Nyack would be running again.
"I've never seen anything like it at least not since the April Fool's storm in '97," said village meteorologist Frank Fairweather. "And maybe not since the pre-Halloween storm in October 2011. Come to think of it, I have seen stuff like this before. Forget I ever said anything," he said.
Leave a comment
Nyack Rebrands As "Jen Of The Hudson"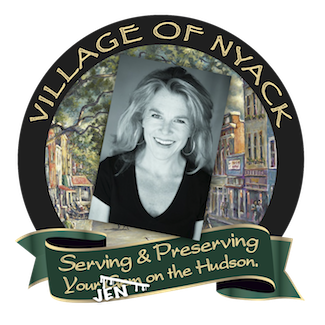 First term mayor Jen White wants to leave a permanent mark on Nyack. So she is naming the village after herself, changing Nyack's tagline from 'Gem of the Hudson' to 'Jen Of The Hudson.'
"I can't think of a better way of welcoming Spring than with a fresh breeze of re-branding," said White. "And what better way to get the villagers to stop talking about parking '€" have them talk about me!"
The new branding effort includes temporary tattoos, T-Shirts and a commemorative line of Nyack kayaks emblazoned with the new logo and a headshot of the mayor. All items will be on sale at the new "Jen of The Hudson" gift shop on the 6th Floor of Nyack Village Hall.
Leave a comment
Dig We Must? Not If It Threatens Our Drinking Water

by Doubt N. Thomas, PhD, Environmental Advocate
What's not to like about new technology that offers the promise of local jobs and greater energy independence? Those are some of the arguments in favor of hydro-farting, a process which makes it economically feasible to extract natural gas from our local communities.
Although big business and energy companies want us to believe it's safe, don't take the word of Big Science. I've seen it with my own eyes: hyrdro-farting is a danger to our community, our water supply and our children's health.
Last weekend I took the short drive from Rockland County NY to the quaint upstate farming community of Gaseous Hollows, Saskatchewan. When the economy turned sour in 2009, farmers leased their land to multi-national energy corporation Conflagration Energy Unlimited Associates Incorporated Corporation to capture locally produced methane gas through the hydro-farting process. Now, everyone in town is drinking bottled water, eating more legumes and just trying to hang on to a lost way of life. Sure, Obama is to blame. But don't underestimate the dangers of hydro-farting, either.
Professor Doubt N. Thomas teaches Bio-Illogical Science at Montessori Community College.
Leave a comment
Parking Hall Of Fame To Open in Village
The Nyack Parking Authority has secured an agreement with the Parking Hall of Fame to relocate their national museum to the Village of Nyack. The new facility, which will occupy a little less than one square mile, will be built at Main Street and Broadway extending West to Franklin Street, North to Depew Ave and South to Second Avenue.
"We're thrilled," said one Nyack merchant. "Finally we are getting the national recognition we deserve for our parking. If this doesn't solve our parking problems, nothing will."
Leave a comment
Rockland County Uses Mayan Calendar To Close Budget Gap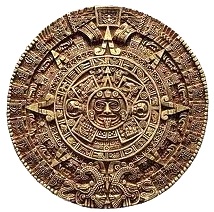 New City, April 1 — In one way, running a county is like running a household: at the end of the day, there's never enough money to do everything you want to do. But Rockland has an innovative solution to cut expenses and make county revenues go just a little bit farther.
Fiscal soothsayers are adjusting the budget year to match the Mayan calendar — meaning that expenses projected after Dec 31 can effectively be ignored because the calendar — and presumably life as we know it — ends. Budget planners admit it's a financial trick, but defend the practice saying this opportunity only happens once in a lifetime.
Leave a comment
A Modest Proposal
by Jonathan Swift
This primary season has been filled with talk of taxes and it seems every candidate has his or her own infallible plan for reforming the tax system. From "flat tax" to "fair tax," to "9-9-9," to "VAT," to the "millionaire tax,: they all seem to promise two things: lower taxes for the middle class and increased revenue for everyone. Unfortunately, what no one in the field seems to realize is that none of these plans takes advantage of the one principle that has driven our economy from its very beginning" namely, self-interest.
Lets put it another way. In today's progressive tax system, the more you make the more you pay. But what if we were to turned that principle that on its head, so that the more you made the less you paid! Think about it: folks at the bottom rung of the income scale would have an incentive to work harder to avoid paying higher tax rates. Imagine a world where millionaires were free to power the economy where the more they made the more they kept. Productivity would skyrocket. Previously poor people would clearly see their only way out of the vicious cycle of low earnings and high taxation would be to work harder.
This plan is not without its potential snags. There may be both rich and poor who don't recognize the benefits of this system; rich people who only want to lounge and expand their leisure time. For them, I say, a booming economy has no room for a "leisure class" and a substantial tax disincentive should get those fat cats off their butts. Then again, there may be poor people who lack the knowledge or skills to take advantage of this open opportunity. Part of the surplus revenue could be used to fund re-education and work camps for the persistently poor. And don't forget, while they remain poor we continue to collect more tax revenue from them.
You may call this plan none too swift but I say there is little time to act. The Lilliputian ideas of the current crop of candidates will not hold water. The time is now. Our rallying cry will be loud and clear. TAX THE POOR!
Why not? It's not like I'm saying we should eat them.
Leave a comment