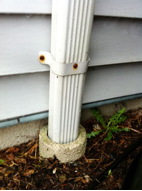 by the Nyack Green Infrastructure Committee
The public is invited to a Sat 9/22 9a-12n meeting in Nyack's Village Hall for a community discussion about ways to improve the health of our village, our water system, the Hudson River and to help reduce recurrent flooding problems.
Nyack'€˜s recent spate of floods has put stormwater on our minds. Flooding damages buildings, scours pavement, erodes stream banks and causes sewage overflows. The costs are high and the solutions are complex. But like communities across the region and the country, Nyack is turning to green infrastructure solutions for managing stormwater.